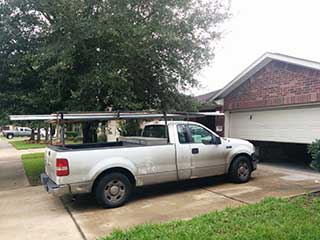 Your door can malfunction in an endless number of ways. Luckily we can offer the right solution each time, whether you're dealing with a broken spring or dodgy safety sensors.
How We Handle Broken Springs
A garage door will either have a torsion spring or a set of extension springs to lift it up and carefully bring it back down. If this important component snaps, the heavy door will become impossible to operate. Please take note that spring adjustment and replacement are both extremely dangerous so we urge you to call our professionals to prevent any serious harm resulting from improper handling of the springs.
Remounting the Door & Fixing The Tracks
The door is only effective as a protective barricade if it is properly set in place. If it is significantly misaligned, there is a risk that it will come off its tracks and become unusable. If your door has come out of alignment as a result of bent or worn tracks, we can resolve this issue for you so that your door continues to function as it should.
Fixing The Automatic Operation
If your opener has stopped responding, this can become an enormous headache. You'll be forced to open the door manually to get in and out, which no one wants on a rainy day or first thing in the morning. If you're not currently able to use the automatic function of your door, get in touch with us as soon as you can. Our technicians will troubleshoot the issue and detect the root cause of the problem. As soon as we identify the trigger, we'll set to work on its repair or replacement and have your garage door looking and working like new again.
Covering All Your Garage Door Needs
Call our local garage door repair specialists in Duluth, Georgia for professional and same day services you can trust. We'll get your door back to working condition and make any recommendations as necessary to ensure its proper functioning continues into the future.
Need more? We also provide:
New Opener Remote Controls
New Garage Door Installation
Garage Door Cable Replacement
Roll up Garage Door Maintenance